Shihan Ty Yocham is one of the nation's foremost practitioners of goju-ryu karate, certified as a 6th-degree black belt in the style and designated as Shihan, or senior teacher. In addition, he has earned third-degree black belts in Ryukyu kobudo (traditional Okinawan weapons) and in Okinawa hakutsuru (white crane) kenpo.
Shihan Yocham is the founder of Austin Okinawan Karate and is the highest-ranking black belt in the Texas Okinawa Goju Karate Federation. Shihan began studying martial arts in 1989 and has taught karate since 1990, when he was appointed to his first assistant-teaching position. Shihan Yocham has taught full-time since 1998, including adult and youth martial art instruction, Okinawan weapons instruction, and general self-defense classes. As his reputation grew, Shihan accepted invitations to demonstrate his martial skills at numerous national and international gatherings as well as at local events, including multiple fairs and festivals and many karate tournaments.
Shihan Yocham's karate has taken him and his senior students to Japan, at the invitation of the Shorei Kai Karate, to demonstrate techniques at the global organization's Tokyo headquarters. During one of those visits in 2010, Shihan Yocham joined Shorei Kai to strengthen relations between the international group and the Texas Okinawa Goju Karate Federation. Shorei Kai leaders tested and affirmed Shihan Yocham's fifth-degree rank and shihan-level teaching accreditation. These were the highest ranks that Shorei Kai had ever conferred to a karate-ka upon entering the organization rather than rising through the ranks.
Figure 2: Shihan Yocham performs Sanseiru kata at Shorei Kai Karate tournament, Tokyo, 2010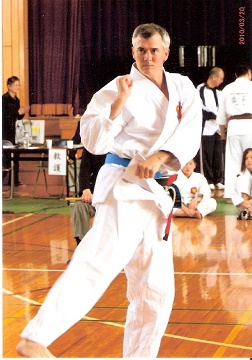 Shihan Yocham's peers in the Texas Okinawan Goju Karate Federation selected him as Instructor of the Year for eight consecutive years, and recognized the quality of his classes as School of the Year for nine consecutive years, before discontinuing the awards program in 2003. These honors earned Shihan Yocham and his students the additional accolades of "TOGKF Instructor of the Decade" and "TOGKF School of the Decade" for the 1990's. Shihan Yocham's students have received many accolades both within TOGKF and in the wider karate community. Shihan Yocham was inducted into the very first Texas Martial Arts Hall of Fame as 1997 Instructor of the Year in the Okinawan Division, and inducted into the U.S.A. Martial Arts Hall of Fame as 2007 Instructor of the Year. He is also pictured several times in the 2001 printing of the "Martial Arts of the World" encyclopedia.
Although Shihan Yocham emphasizes training for self-defense and health rather than for competition, he has won scores of trophies and medals at tournaments in the United States, Japan, Dominican Republic, Panama, Ontario, and British Columbia. Highlights include taking first-place in men's black belt sparring and third in kata at Shorei Kai's international tournament in Tokyo in 2010. In 2007, he was the only competitor to win first places in kata, weapons and sparring at the WFMA Canadian National Championships. And in 2005, Shihan Yocham placed in three events as part of Team USA in the International Goodwill Games in Panama, where he also took home an International Goodwill Ambassador Medal of Merit.
Shihan Yocham has served as president of the West Austin Lions Club since 1994. He has served on the school board of NYOS Charter School, and has been a member of the outreach ministry at New Hope Baptist Church in Cedar Park, Texas, since 2006.&nbsp